Our Collection
Our Collection
Hamish's Collection
Hamish's Collection
My name is Hamish Robertson, and I am the CEO and Co-Founder of The Watch Collectors' Club. My collection is simply the watches I liked when I saw them and could afford them. I have focussed on vintage Swiss watches. Extremely high-quality pieces can be had for lower prices than new watches from the same companies. I buy because I like the look and style of something, not because of the technology, the movement, or the so-called importance of a watch. I have added some new Casio G-Shock and Swatch watches in recent years. I see them as no less or more important than my vintage watches, and enjoy wearing them just as much.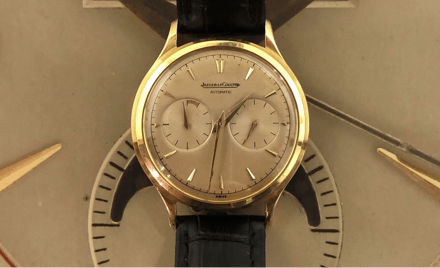 Jaeger LeCoultre Futurematic
Futurematic – The Jaeger LeCoultre Futurematic is notable because it is symmetrical. The crown for winding and setting the watch is on the back, not the side. The movement is highly technical, very clever, and famous. I knew it was Jaeger LeCoultre's most original automatic movement, sure, but really I bought this because of its looks. I wear it to stylish events, in the evenings, and with a sharp suit if I have an important business meeting.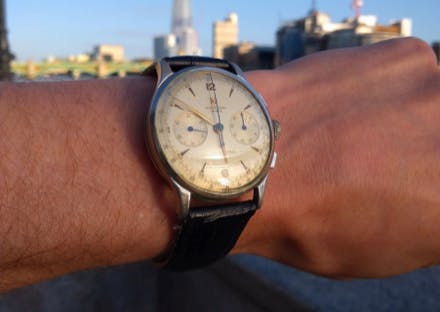 Universal Geneve Uni-Compax
Unicompax – The Universale Geneve Unicompax is a Chronograph, or stopwatch. I bought it at auction because I loved how clean simple and stylish it was. Later, I learned it contains the famous Valjoux 72 movement, which powers many other famous chronographs. Buying it led me to learn much more about the brand. I wear it widely as it suits so many occasions and outfits. I am still delighted with it.
Other Watches
Mickey Swatch – I have always admired Swatch, and had one when I was young. When I saw this model, made in collaboration with the artist Damien Hirst, I just had to have it. I thought the mirror finish dial and hands were so cool. It is a bright comfortable and very well made timepiece I can wear on relaxed sunny days.
My collecting journey began 8 years ago, with an idle search of eBay. My first purchase was a simple Jaeger LeCoultre from the 1950s, as I liked the dial and the low price, despite it not being mint condition. This led me to learn more about Jaeger LeCoultre and purchase more of those, including three of their most important watches of the 20th century: The Reverso, the Futurematic, and the Dirty Dozen watch made for the British Armed Forces at the end of the Second World War.
A delightful Breitling Top Time and 1950s era Chronomat I bought at auction have given me a passion for Breitling. I have found the most delight in meeting other watch lovers, seeing their timepieces, and learning more about what's out there. Starting The Watch Collectors' Club is all about making it as easy as possible for people to explore, learn and share their enthusiasm for watches.
Ed's Collection
Ed's Collection
I'm Ed Howkins, the co-founder of The Watch Collectors Club. My watch collection doesn't really have a theme. I buy watches that appeal to me visually.  I have different model types, from different brands, ages and from different countries.
The two questions I ask myself when I buy a watch are: does it look interesting, and is it comfortable to wear. I love all of my watches, and get addicted to wearing them.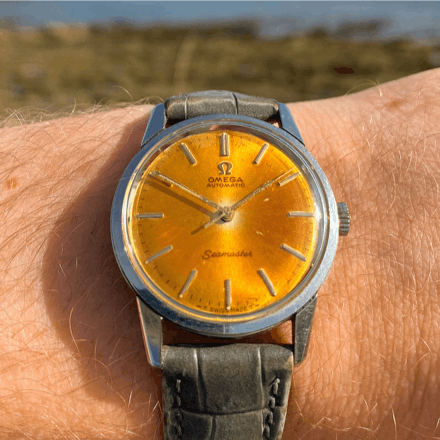 Omega Seamaster 1967

Omega Seamaster 1967 – My first automatic Swiss watch, which has an unusual sunburst orange dial. I bought the watch when I was 16, having worked for 2 months in my first formal job. I wanted a watch which looked classic and was from a Swiss brand that I had heard of. My budget only stretched to a vintage Seamaster, for which I paid £300. I wear it often, and whenever I do, I'm reminded of another famous wearer of the Omega Seamaster: James Bond.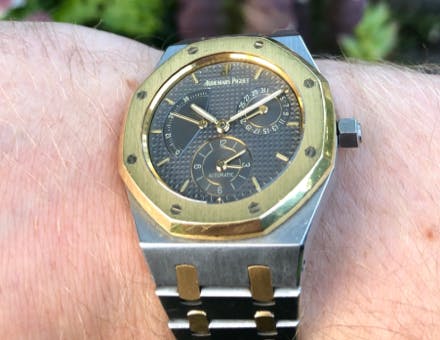 Audemars Piguet Royal Oak Dual Time
Audemars Piguet Royal Oak Dual Time – The Royal Oak is one of the two most famous designs of watch designer: Gerald Genta. The Royal Oak was controversial when it was released, as it was the first luxury sports watch made of steel, costing more than many solid gold watches of the day. It wasn't immediately successful, but over time, people started to appreciate its genius. It has a simple, recognisable design, practical materials, incredible attention to detail, and one of the most comfortable metal bracelets available. There is lots to look at on the dial (including a very useful power indicator), and it has a touch of gold on the bezel and bracelet, which makes it fantastic as both a smart and a casual watch.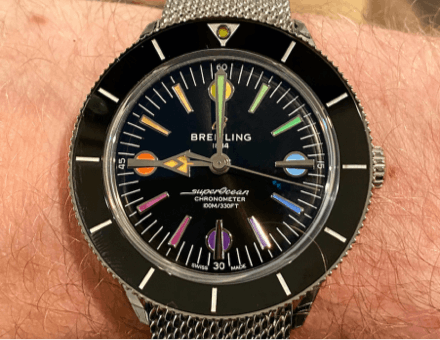 Breitling Superocean Heritage 57 Rainbow
Breitling Superocean Heritage 57 Rainbow -This is the only Swiss watch that I have bought new, and so holds a special place in my heart. I love the design, which is a homage to vintage diving watches. The bezel is very unusual (it's concave to make it easier to read underwater), and the rainbow-coloured hour markers really stand out. It is incredibly comfortable and practical to wear. 
I've been collecting watches for nearly 15 years, and my collection continues to grow. I love to meet new people, and often end up wanting to buy watches that other people have a great passion for. I can't wait to hear about what you love about the watches you love, and hear your stories about them.
Make the watch world simple
Make the watch world simple